This is the world's most advanced smartphone – the best iPhone ever created. This is the iPhone 7. Apple's latest flagship smartphone is water resistant, has a longer battery life, better camera and much more. The new handsets are direct sequels to last year's iPhone 6S and iPhone 6S Plus, and feature a new A10 chip.
iPhone 7 specs:
4.7-inch screen
1,334 x 750 pixel display (326ppi pixel density)
Dimensions: 183.3 x 67.1 x 7.1mm
Weight: 138g
A10 Fusion (64-bit, quad-core CPU, six-core GPU)
32/128/256GB storage
12-megapixel main camera (OIS, f/1.8)
7-megapixel secondary camera
Stereo speakers
Fingerprint scanner
IP67 water resistant
iOS 10 software
Colours: Jet Black, Black, Silver, Gold, Rose Gold
iPhone 7 Plus specs:
5.5-inch screen
1,920 x 1,080 pixel display (401ppi pixel density)
Dimensions: 158.2 x 77.9 x 7.3mm
Weight: 188g
A10 Fusion (64-bit, quad-core CPU, six-core GPU
32/128/256GB storage
12-megapixel main camera (OIS, f/1.8, dual-lens)
7-megapixel secondary camera
Stereo speakers
Fingerprint scanner
IP67 water resistant
iOS 10 software
Colours: Jet Black, Black, Silver, Gold, Rose Gold
iPhone 7 design
Hottest facts:
Dust and water resistance
Two new black colors: 'Jet Black' and 'Black'
Camera bump remains
The iPhone 7 is just as sleek and stylish as its predecessors, with the iconic rounded design returning for a third instalment with the same 138.3 x 67.1 x 7.1mm frame as the iPhone 6S. It's lighter though at 138g, down from 143g on the 6S.
One of the big new talking points is its water and dust resistance, with IP67 protection bringing the new iPhone into line with competitors like Samsung – and giving you peace of mind when you're in the bath or out in the rain.
Anyone hoping for a flush rear to the new iPhone will be disappointed though, as the iPhone 7 has a very noticeable camera bump.
That camera bump is a little bit special though. It's molded from the aluminum frame of the phone and houses the antennas – removing the ugly bands of its predecessors on the black versions. On the other colors though, the bands are still noticeable at the top and bottom of the device.
There are two new colours as well, with the glass and aluminium Jet Black joined by the matt-finish Black option – the latter option also features a black Apple logo on its rear. You'll also get the choice of silver, gold and rose gold, but there's bad news for Space Grey fans: that option is long gone.
Something else Apple has built into the design of the iPhone 7 is stereo speakers, with one at the top and one at the base of the handset. That gives you louder, clearer audio, which will be great for movies and gaming.
Apple says the iPhone 7 kicks out twice the volume of the 6S, as well as having an increased dynamic range. In short, they should sound good.
iPhone 7 headphone jack
Hottest facts:
No headphone jack
Lightning EarPods in the box
Aaptor for standard headphones in the box
Wireless AirPods available at extra cost
It's gone! It really has gone. Apple has removed the standard headphone jack – but it's not all bad news. Its a step into the unknown.
You get a set of Lightning EarPods in the box, meaning you'll be able to plug in right away, while an adaptor is also included, so you can continue to use your current headphones if you wish – although it's certainly not the most elegant implementation.
If you're feeling flush you can splash the cash ($159, £159, AU$229 to be exact) and get yourself a set of AirPods – Apple's first wireless Bluetooth earbuds. They offer five hours of listening on a single charge, dual microphones enabling you to take calls and interact with Siri, and touch response, so you can answer calls and launch Siri.
The AirPods also come with their own case, which houses its own battery providing up to 24 hours of playback, as it will charge the buds when they're sitting in it.
Pairing the AirPods with the iPhone 7 is easy: all you have to do is move the case near the phone and tap the on-screen prompt.
The lack of a headphone jack will frustrate users to start with, but in a year's time we wouldn't be surprised if all major manufacturers have followed suit.
iPhone 7 camera
Hottest facts:
A larger, single-lens 12MP rear sensor
Raw support, 50% more light, 60% faster, 30% more power efficient
Front camera now at 7MP
Apple has overhauled its camera tech for the iPhone 7, bringing in a brand new 12MP sensor on the rear and upping the front-facing snapper from 5MP to a 7MP Facetime HD offering.
The iPhone 7 has a completely new camera system, and gains OIS (Optical Image Stabilization), something the iPhone 6S missed out on but which the 6S Plus boasted.
The wide-aperture lens on the back lets in 50% more light, and it's 60% faster and 30% more energy efficient.
There's a six-element lens and the two-tone flash now has four LEDs for 50% more light and a 50% further reach. It also features a flicker sensor for artificial light, for better picture results.
Like the iPhone 6s the iPhone 7 can shoot in 4k at 30 fps, refuting some rumors suggesting that Apple might up the frame rate to 60.
The larger iPhone 7 Plus comes with a dual-camera setup, one is a normal lens and the other a telephoto lens. This new camera system can build a zoom feature into the iPhone. When in the camera app, a new button can zoom 2x instantly with just a tap. After 2x, however, further zoom relies on software. But because of the added telephoto lens, the zoomed in images are much clearer than before.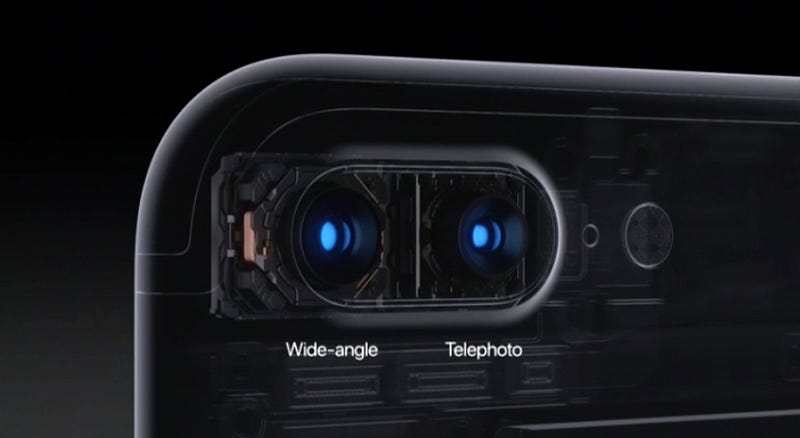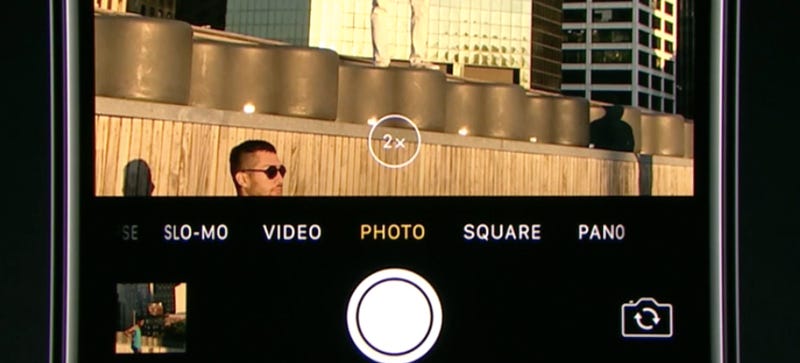 The dual camera can uses machine learning to create a depth map. After selecting the camera app's new "portrait" mode, you'll immediately see the depth effect in real time. We didn't really get to see the effect in real time, but the photographic results Schiller did show looked damn good.
iPhone 7 battery
Hottest facts:
Longest-lasting iPhone ever
2 hours more life than iPhone 6S
Apple says the iPhone 7 and iPhone 7 Plus have the best battery life of any iPhone – and so they should. It reckons those upgrading from the iPhone 6S can expect, on average, an additional two hours from each charge.
Apple also quotes 40 hours of wireless audio playback and 13 hours of wireless audio. Which is nice.
iPhone 7 display
Hottest facts:
4.7-inch, 1334×750 resolution
Brighter
Apple has stuck with the same screen size and resolution from the 6S for the iPhone 7 – so at first glance there's not much to report.
The 4.7-inch display sports a 1334×750 resolution, which in turns gives you a 326ppi pixel density. That served the 6S well, so you shouldn't worry about it on the iPhone 7. We understand if you're drawn to the pixel packed Galaxy S7 and S7 Edge though.
However, crank up the brightness bar on the new iPhone and you're eyes will be in for a treat. Apple has upped the brightness of the display on the iPhone 7, for an even brighter, bolder visual experience.
iPhone 7 OS and power
Hottest facts:
Four-core, 64-bit A10 Fusion processor
iOS 10
The iPhone 7 has been groomed to launch alongside iOS 10, and it's a tremendous feature upgrade over iOS 9.3. It introduces a much smarter Siri that can command third-party apps, new Messaging functionality and a convenient Raise to Wake way of lighting up the phone.
It doesn't stop with a software upgrade under the hood. iPhone 7 also gets a performance boost, with the phone packing a four-core, 64-bit Apple A10 Fusion chip.
That's a big leap from just a dual-core processor in the iPhone 6S, with Apple saying the iPhone 7 is 40% faster than its predecessor, and twice as fast as the iPhone 6.
iPhone 7 home button
Hottest facts:
A pressure-sensitive home button
Taptic feedback
It may not look like it, but Apple has redesigned its home button, making it more powerful than ever. It features the same pressure sensitive technology as the touchpad on the new MacBooks, as well as delivering taptic feedback.
You can preorder the iPhone 7 on the 9th of September but the actual iPhone 7 release date is Friday September 16, in 28 countries including the US and UK.
A week after September 16, the iPhone 7 will also be available in a further 30 countries too.
iPhone 7 Cost:
iPhone 7 | 32GB | £599 / $649
iPhone 7 | 128GB | £699 / $749
iPhone 7 | 256GB | £799 / $849
iPhone 7 Plus | 32GB | £719 / $769
iPhone 7 Plus | 128GB | £819 / $869
iPhone 7 Plus | 256GB | £919 / $969
[image from gizmodo.com]